Chicken with Tarragon
For All Stages of the ITG Diet Plan
Difficulty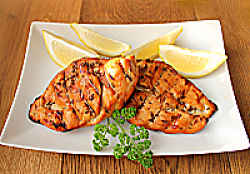 Ingredients
For 2 people (


)
Recipe
2

5-8 Oz. Boneless and Skinless Chicken Breasts

2

tablespoon(s)

Fresh Lemon Juice

2

teaspoon(s)

Garlic

2

teaspoon(s)

Onion Powder

1

tablespoon(s)

Dried Tarragon

2

tablespoon(s)

Olive Oil
Chicken with Tarragon Directions
Place all ingredients in a plastic bag, tie off and shake until the chicken is completely covered in the seasonings and oil.

Remove the chicken from the bag and place it on the grill. Cook until it reaches about 165 degrees F with a meat thermometer.

Serve with your favorite vegetables.