Cod with Asparagus
For All Stages of the ITG Diet Plan
Difficulty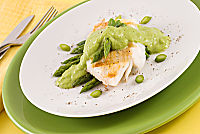 Ingredients
For 4 people (




)
Recipe
16

ounce(s)

Cod or other fish filet

Asparagus (trim ends)

2

Spring Onions (sliced up to green part)

2

tablespoon(s)

Basil (cut into chiffonade)

1

teaspoon(s)

Minced Garlic

1.5

teaspoon(s)

Ginger (minced or sliced)

2

tablespoon(s)

Low Sodium Soy Sauce

2

teaspoon(s)

Olive Oil

1

part(s)

Cracked Black Pepper

Parchment Paper
Cod with Asparagus Directions
Preheat the oven to 425°F. Set two large pieces of parchment paper on a baking tray.

Cut fish into 2 portions.  Set a piece of cod onto each piece of paper. Place half of the asparagus right on top of each piece of fish. Do the same with the Spring onions.

Top each piece with equal amounts of basil, garlic, ginger, soy sauce, and olive oil. Crack some black pepper if you like.

Close up the parchment paper to make two little packages.

Bake in the oven for 15 minutes or until fish is cooked through and asparagus is tender (but not overcooked!).

Transfer your fish and some of the sauce to a plate and toss the parchment paper in the garbage.  Serve and enjoy.