Sofrito Mushroom Burgers
For All Stages of the ITG Diet Plan
Difficulty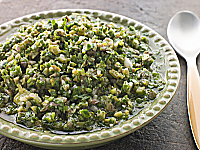 Ingredients
For 8 people (








)
Recipe
1

Soffrito Ingredients:

0.5

bunch fresh cilantro

4

large green onions

4

garlic cloves

2

ounce(s)

green or red bell pepper

0.25

cup(s)

parsley

0.25

cup(s)

extra virgin olive oil

Burger Ingredients:

2

pound(s)

lean ground beef (or lean protein of your choice)

4

cup(s)

sliced mushrooms (or other soft veggie of your choice)
Sofrito Mushroom Burgers Directions
Pulse all ingredients for sofrito mixture in a food processor or blender until chopped and blended. 

Don't pulse too long. You want it coarsely chopped about like pickle relish. Store sofrito 

in a lidded jar in the refrigerator if not using immediately. It can also be frozen in plastic bags.

Makes about 1½ cups.

Form hamburger meat into patties (or your lean protein choice) and grill or cook to your liking.

While burgers are cooking, saute sliced mushrooms (or other vegetable) in a tablespoon of extra virgin olive oil.

Remove burgers from grill, top with mushrooms and spoon your sofrito mix over top of the mushrooms.

Use your sofrito mix as a topping on eggs, chicken, seafood, chicken, pork..anything!