Spinach Dip
For All Stages of the ITG Diet Plan
Difficulty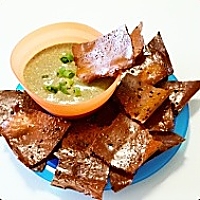 Ingredients
For 2 people (


)
Recipe
1

pkg ITG Cream of Chicken Soup

10

ounce(s)

fresh spinach (can use frozen, fresh is better)

1

tablespoon(s)

Olive Oil

1

Green Onion

Red / Green Pepper chopped fine

fresh lemon juice

1

tablespoon(s)

garlic powder

1

dash(es)

Tabasco

2

tablespoon(s)

Walden Farms Amazin Mayo
Spinach Dip Directions
Prepare chicken soup with only 3-4 ounces of water.

Sautee fresh spinach in olive oil with garlic powder and sea salt.

Chop green onion, red and green pepper very fine.

Mix all ingredients and add a couple teaspoons of Walden Farms mayo, a few dashes of Tabasco and squeeze some fresh lemon juice.

Good as a side dish or blend in a food processor for dip, enjoy with 

NEW! ITG Pizza Protein Chips

 or 

New! ITG BBQ Protein Chips

 or make our 

ITG Flatbread Crackers!

This recipe developed by Val from Total Health, Tampa FL.