Air Fryer Spaghetti Squash
For All Stages of the ITG Diet Plan
Difficulty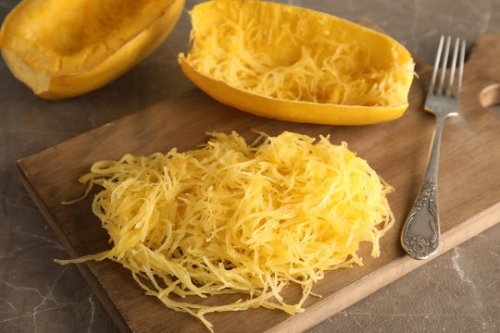 Ingredients
For 4 Servings(s) (




)
Recipe
1

Spaghetti Squash (1 to 1.5 lbs)

1

pinch(es)

sea salt, garlic powder, pepper, and smoked paprika to taste
Air Fryer Spaghetti Squash Directions
Preheat air fryer to 360 degrees.

Wash the outside of the spaghetti squash.

Cut a small bit off the top and bottom of the squash, then cut in half lengthwise.

Scoop and clean out seeds, then brush the inside with olive oil.

Sprinkle the inside evenly with seasonings.

Place in air fryer cut side up. Most common air fryers can hold a 1-1.5 pound spaghetti squash.

Cook for 20 minutes. For larger squash, add extra time.

Remove from air fryer carefully (outside skin will be extremely hot). Use an oven mitt to hold the squash while using a fork to spin and gently twirl strands of spaghetti squash from the sides. Use a spoon to scoop remaining squash.

Garnish with parsley. Serve immediately.

Optional: add 2 tablespoons of tomato sauce (low sugar, or homemade).

Step 3 Only: Add a sprinkle of parmesan cheese on top.

Note: Spaghetti Squash is an occasional vegetable in Step 1. One cup is approximately 5.5 ounces.