Baked Mushrooms
For All Stages of the ITG Diet Plan
Difficulty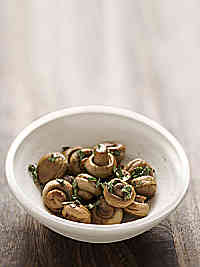 Ingredients
For 2 people (


)
Recipe
0.33

cup(s)

Fresh thyme leaves, picked from stems

1

pinch(es)

Dried chili powder

2

Garlic clove, peeled and finely sliced

Juice from 1 lemon

6

tablespoon(s)

Extra-virgin olive oil

4-8 Large flat field mushrooms (such as crimini, portobello or shitake)

Sea salt and freshly ground pepper to taste
Baked Mushrooms Directions
Preheat the oven to 425 degrees F.

Pound your thyme, chili and a little of the garlic in a pestle and mortar or shaker.

Squeeze in the lemon juice and add the olive oil.

With your hand or a brush, rub the mushrooms all over with this mixture. Make sure all the flavored oil is used up.

Tightly pack the mushrooms together, bottom side up, in an ovenproof dish or roasting pan, and with a knife make 2-3 slits randomly over each mushroom. Insert a slice of the remaining garlic into each slit.

Dot some olive oil over the mushrooms, season and bake for around 15-25 minutes - cooking time depends on the size of the mushrooms. Cook until they are soft, slightly colored and juicy.

Taste one to see, continue cooking if need be. You can also use these as a topping to your favorite salad.